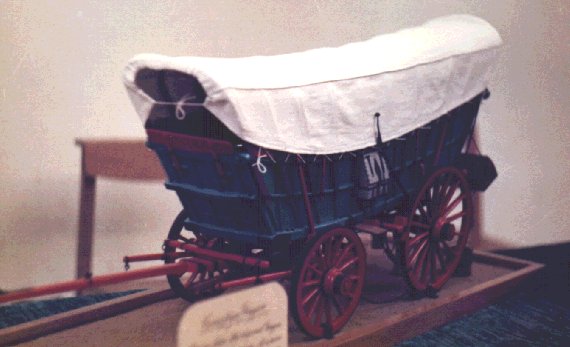 The purpose of this web site is to bring a greater awareness as to the existence of these fascinating vehicles of the past, to show the many different varieties of designs and types that were in general use right up to the 1920s. There were vehicles for every conceivable purpose, commercial vehicles, public transport vehicles - omnibuses, charabancs, coaches and hackney carriages.
Vehicles that helped forge the birth of a nation, like the Conestoga Waggon and the Prairie Schooner that formed the "Wagon Trains" that took countless thousands of pioneers across the barren plains of the United States to reach the new lands of California and Oregon.
The magnificent and beautifully crafted Farm waggons and carts made by wheelwrights in country workshops are fascinating subjects in there own right. The elaborate chamfering and decorative yet functional ironwork on some of these vehicles is quite amazing. The great choice of variety in these waggons and carts would provide a lifetimes work for any modelmaker.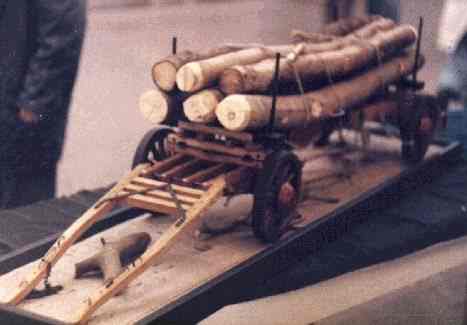 Then there are Horse Drawn Ploughs, Woodland Vehicles, and what I think is the most beautifully ornate of any Horse Drawn Vehicle - the Ledge Caravan. The skills that are required by the modelmaker include woodworking, metalworking, carving, upholstery and painting. The making of a farm waggon can take over 100 hours, a Ledge caravan or omnibus may require several hundred hours. If the model is built to a very high museum standard, the price a collector would be expected to pay for the farm waggon would be approaching £500 pounds, ($900) and that of the Ledge caravan or omnibus may fetch over £2,500 pounds, ($4,000).
Whilst many of these vehicles are preserved in museums, many others are not, and it is only through the dedication, research and love of the subject by a small number of people, that the history and preservation of these remarkable vehicles have not been lost, forever.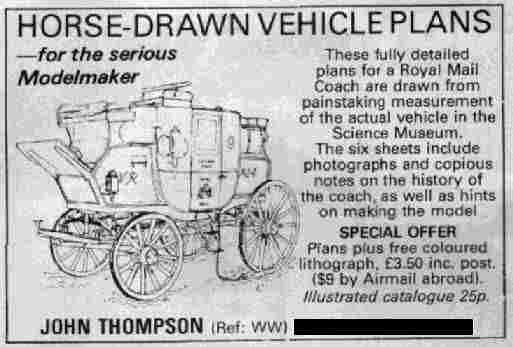 I was introduced to SMHDV quite by accident. In 1978 I was looking through a magazine in a doctor's surgery, and came across a small advertisement showing a fine line drawing of a Royal Mail Coach and the offer of an illustrated catalogue for 25p. (See left). I sent for the catalogue, and just could not resist ordering several plans straight away; I now have over 30 plans/drawings, a number of finished models, and others yet to be completed. Over the past 27 years I have derived great pleasure in constructing these models, each waggon, cart or carriage has its own distinctive personality. Through these pages I hope to show some of the plans that are available from various sources.
I would like to see this site develop into one that model makers and enthusiast can be part of, e-mail your questions, your ideas, and your comments. Brows through the various pages, you will see what I am trying to create. There are many great models to be seen in the "Model Gallery". The "Tips and Ideas" page is worth visiting, as there are a number of tutorials compiled by master model makers that will be of great benefit to not only the novice but also the experienced model maker.